Hunter Health's Commitment to Heart Health
February is American Heart Month, a time to raise awareness about heart health and the importance of preventing heart disease. It's the leading cause of death worldwide, and at Hunter Health, we take heart health very seriously. Our goal is to provide comprehensive heart health services to our patients under one roof, including screenings, diagnostic tests, and prescriptions for any needed medication.
Educating our Community on Heart Health
Preventing heart disease starts with understanding the risk factors. "Risk factors for heart disease include smoking, high blood pressure, high cholesterol, diabetes, and a family history of heart disease," says Dr. Caitlin Chiles, our Director of Primary Care. "At Hunter Health, we work with our patients to identify their individual risk factors and create a personalized plan to reduce their risk of heart disease."
Regular exercise and a healthy diet are also crucial for preventing heart disease. "Exercise can help lower blood pressure, improve cholesterol levels, and reduce the risk of heart disease," says Dr. Chiles. "A diet that is lower in foods that contain a lot of flour and sugar can help reduce the risk of heart disease. This usually means focusing on fruits, vegetables, lean meats, and whole grains."
Providing Accessible Heart Health Services with on-site Echocardiograms
One of the key services we offer at Hunter Health is partnering with Hillary Carden, a traveling sonographer who comes to our clinic once a week to perform a variety of ultrasounds, including echocardiograms. These tests are used to identify the reason behind symptoms like leg swelling, shortness of breath, chest pain, and heart palpitations. It's something that many often wait days or weeks for.
"Echocardiograms are a great tool for those in our community who maybe don't want to have to go wait a month at a hospital to go get an ultrasound done," Hillary says. "I think it's just great to be able to check out your heart in a quick manner if something is going on so that you can get some intervention and help."
Raising Awareness for Heart Health on Wear Red Day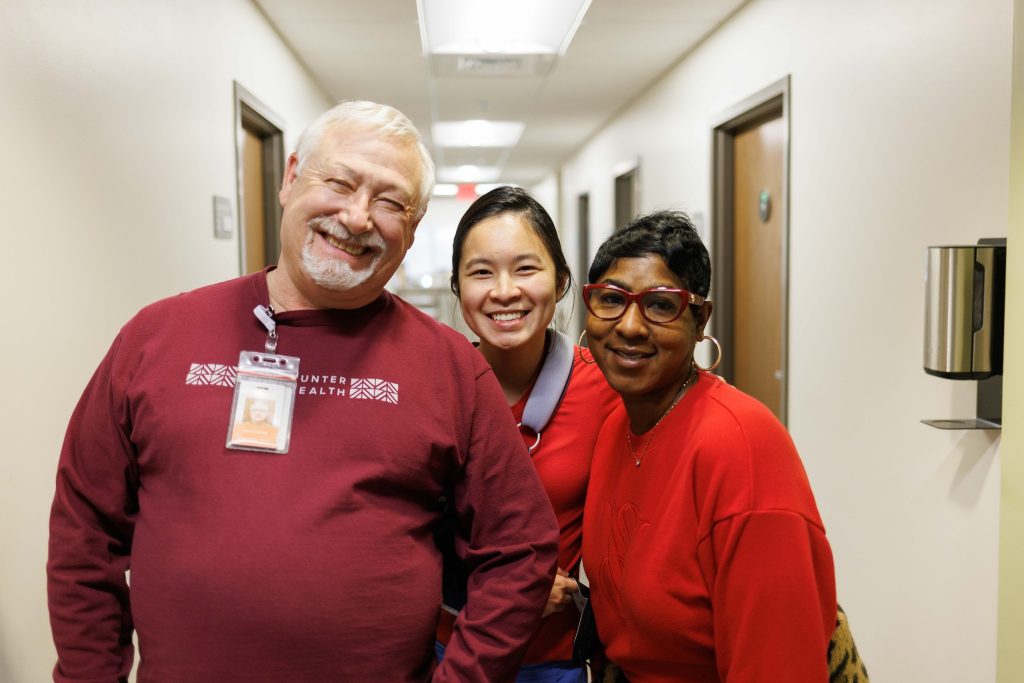 To kick off American Heart Month, Hunter Health participated in the American Heart Association's Wear Red Day. Our staff wore red clothing and shared information on how to lower the risk of heart disease through regular exercise, healthy diet, and not smoking. Raising awareness about heart health is a crucial step in preventing heart disease, and we're proud to do our part.
Taking Control of Your Heart Health
We believe that by providing our patients with access to top technology and expertise, we can help prevent heart disease, other related issues, and improve the health of our community. We're here to help you take control of your heart health and provide you with the personalized care you need to live a long and healthy life. If you're concerned about your heart health or would like to learn more, give us a call at 316-262-2415. Together, we can make a difference in the fight against heart disease.